LIFE IS A COLLECTION OF EXPERIENCES, LET US BE YOUR GUIDE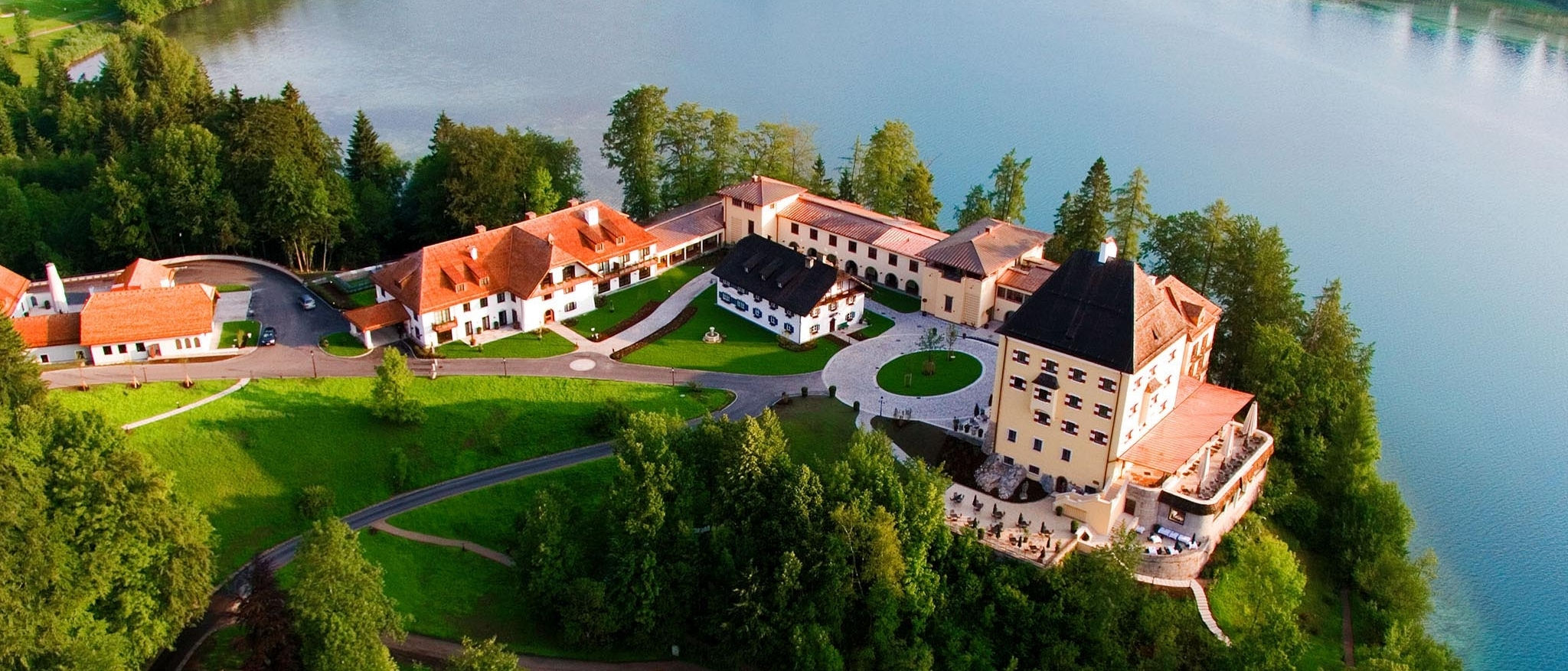 Our Head-Concierge Norbert Strambach is member of the celebrated international concierge society "Les Clefs d'Or". Following a non official list in alphabetical order on topics our concierge put together for an easy start on to your special Schloss Fuschl experience.
Animal Sanctuary Gut Aiderbichl - this is an animal sanctuary which was started by Michael Aufhauser on the principle "Humanity shouldn't apply only to people". Many visitors come from all over Europe to see for themselves how the animals have been saved and are being treated by the animal trust.. A place where Men and Animal are get along perfectly! Just a 10 minute drive from our Hotel www.gut-aiderbichl.com. The Salzburg Zoo is also a wonderful attraction for animal lovers which should not be missed www.salzburg-zoo.at
Boating excursion - For peaceful hours on our lake during summer there are romantic wooden rowing boats or alternatively, boats with an electric motor, called "Zille", waiting for you in the boathouse of our Hotel, to be rented out on an hourly basis. We are more than glad to arrange a picnic basket to take with.
Clefs d'Or – of course also SCHLOSS FUSCHL has a member of this the celebrated international concierge society and is wearing this gilt insignias with proud in order to reveal the Areas secret treasures. Easy to get in touch with via concierge@schlossfuschl.com for arranging your personalized vacation time plan.
Designer Outlet – an exciting amendment for shopaholics to the regular options is the Salzburg Designer Outlet, easy to be reached on highway A1 towards Salzburg, exit Airport/Flughafen. For an overview on available brands and opening hours go to www.Designeroutletsalzburg.at.
Exit 274 THALGAU would be the exit to take if you are travelling by car on Highway A1 to reach our Resort. For any travel arrangements as Limousine transfer, rental car or train tickets, please do not hesitate to contact us First options on rental cars can be found under www.sixt.com
Faistenau – this little charming village is famous for its many options to explore the area on cross country skiers. During winter, within a 10 to 20 minute drive, cross country skiers and alpine skiers will find their place to go. The closest Alpine Ski resort is GAISSAU HINTERSEE – also to be reached within a 20 minute drive from the Hotel: www.gaissauhintersee.at. Details on cross country skiing in FAISTENAU to be found under www.langlaufdorf.at/cross-country-skiing-salzburg.
Equipment rental can be arranged as well an instructor. Winter activities to be offered in the same region for example would be snow tubing or a little bit more laid back, a romantic horse carriage excursion through the valley of Faistenau.
Getreidegasse – probably Salzburg's most famous shopping lane with enticing shops and the famous historical wrought iron guild signs, but also romantic passageways and courtyards. Today most people are attracted to the Getreidegasse because of its multitude of shops selling jewelry, "Trachten" or traditional costumes, the latest fashions, antiques, leather and paper goods, parfumes, delicatessen and just about anything one could want. But this is not the only option for shopping and sightseeing – let us show you hidden corners of the city filled with charm and its wonderful options in dining, socializing and more.
Home away from Home – if there is anything you would like to find in your booked unit to make your stay more relaxing please do not hesitate to contact is – from a wonderful flower arrangement to your special bedding request or an item to be found in your minibar.
Ideas and Reservations for various Dining options will be arranged through our desk directly. Plenty of Restaurants and Inns to choose from. May it be a rusty alpine hut or an exclusive chic restaurant with its award winning chef.
Jogging, Nordic Walking, Running all this are healthy kind of sports and helps you to forget everyday life and stress. One of the most beautiful Running trails is starting just outside the Hotel door: The path around lake Fuschl. Within the 12,6 km loop you can enjoy the wonderful landscape intensively. More activities on and around lake Fuschl are of course available all year round.
Kaiserzimmer – even our business center has a noble background. If during your vacation at our Resort you have to go online or do some writing on a personal computer – you will enjoy this wonderful office space with a great view over the lake and observed by the emperor/"Kaiser" Franz Joseph. If travelling with a computer, all over the grounds of our Resort, complimentary WI-Fi is available for guests use.
Lake Fuschl is endowed with many facets depending on its moods. Some days it is deep emerald green in colour, next day like a million sparkling gems dancing on the surface of the water. This one cannot influence, it is natures game with the winds and the sunshine. Nowadays the Fuschlseee is one of the cleanest bathing lakes in Austria and offers a wide variety on active options to be explored.
Music, Mozart and Salzburg Festival – the options on Music Events in Salzburg are endless – the highlight for classical music lovers for sure is the famous Salzburg Music festival every Summer www.salzburgfestival.at
Néojeunesse – Enjoy this first Spa ritual with scientifically proven lifting effects available at our SCHLOSS FUSCHL SPA. A double cleansing followed by the exclusive anti-aging "Fibro-Stimulation Massage" for firm and smooth skin. This Spa Treatment highly developed out of world famous Kéraskin Esthetics brand takes on a fresh youthfulness skin – for more options on Treatments visit our SPA site.
Old Masterpaintings are lending the public areas and all suites at Schloss Fuschl a singular air of grandeur. This worldwide unique collection of over 170 important Old Master paintings would be the envy of certain museums all over the world. Salzburg and its countryside always affected artists in all centuries. From Celtic culture to Gustav Klimt to latest Art installations as Joerg Immendorfs Bronze statue "Das Affentor" (Monkey gate). Salzburg is also proud of its private initiative called SALZBURG FOUNDATION, devoted to art in the public space Since 2002, a number of distinguished artists have executed outdoor projects. For example Anselm Kiefer, Marina Abramovic or Markus Lüpertz have developed works of art in and for the city to this point. All of these projects were financed by the Salzburg Foundation without resort to public funding.
Patron saint – Seeking the sponsorship of a helpful saint was and is a part of the name giving practice in Austria's Catholic areas. It was and is important to select a saint that might protect you against their main fears; for example, animal plague(s) and fire. Salzburg and the Area around Lake Fuschl is living its catholic roots with special proud and festivities all year long. Also its churches in each of the towns is named after special holy men or women. With this heritage many famous churches show this tradition in an impressive architectural way, for example the Pilgrims Church in St. Wolfgang at lake Wolfgang named after the holy Wolfgang or St. Peters – one of the oldest monastery of friars within the German speaking countries – mentioned as early as 700 a.d.
Quince Grog and other high proof grogs out of a variety of fruits are produced by local farmers in the area. This bottled fruit gardens are very special for the area and why not taking home a bottle purchased directly at the farm. Of course our Barchef at the SCHLOSS BAR is having some samples at the Bar to try.
Rolls Royce – arrange a transfer or excursion through our chauffeur driven limousine service. For Automobile enthusiasts we have a wonderful 1955 built Rolls Royce Silver Wraith to be used for any transfer service. Accelerating yourself is equally possible: at the wheel of renowned classics of the automobile history you'll drive through the lovely countryside with the wind of elegant nostalgia ruffling your hair. Cars for self driving can be arranged on a daily basis – just get in touch with us to send you the options on available cars. For rental car options on general just go to www.sixt.at and do not hesitate to contact us for any needed transfer even if you prefer a more contemporary vehicle.
Sound of Music – this world famous Movie was filmed in Salzburg and just around the area. Even if our grounds where not used as a filming locationFor this touchy blockbuster our romantic setting is just in the middle between famous Lake Mondsee (the church was used for the wedding scenes) and Fortress Hohen Werfen, used for the entry scenes. But our castle became also world famous because of a wonderful Movie. Lake and Schloss Fuschl provided the ideal setting for the Sissi"-films with Romy Schneider. Rent out the DVD during your stay to find out about the love of the Bavarian Princess Elisabeth and the Austrian Emperor Franz Josef in the 19th Century. When on grounds do not miss to visit our "Sissi Museum". Located within the Schloss Ladl this small exhibition invites you to discover the history of Schloss Fuschl and here you can find original private belongings and pieces from Empress Elisabeth from Austria.
Train ride up to the SCHAFBERG. The Schafbergbahn is the steepest cogwheel railway in Austra. Since 1893 mighty steam locomotives have powered their way from the lake-side base station at St. Wolfgang to the 1783m high summit of the Schafberg, overlooking 7 lakes of the Area, mountains and rolling hills. Trains are in service from the end of April through to October – Details on the schedule can be found under: www.schafbergbahn.at
UNESCO WORLD HERITAGE Sites – not only the historic Centre of the City of Salzburg is part on this listing. Also the Hallstatt-Dachstein/Salzkammergut area is listed as a "Cultural Landscape": "Human activity in the magnificent natural landscape of the Salzkammergut began in prehistoric times, with the salt deposits being exploited as early as the 2nd millennium BC. This resource formed the basis of the area's prosperity up to the middle of the 20th century, a prosperity that is reflected in the fine architecture of the town of Hallstatt." So why not exploring lake Hallstatt and the exciting mountain world at Dachstein Krippenstein. The breathtaking look out platform "Five Fingers" can be reached via 2 cable cars followed by an easy walk and will give you really breathtaking views. www.dachstein-salzkammergut.com During Summer the area provides additional activities below ground as the Hallstatt Saltmine or the Dachtsein Ice Cave.
Vignette - A vignette is compulsory in Austria for all motor vehicles up to and including 3.5 t using all motorways and expressways. Just make sure when entering Austria on the highway to have this sticker at your vehicles windshield, to be obtained at any gas station or at the border when entering the country. More details on a smooth arrival can be found under Locations & Directions.
Water as the element surrounding the Hotel and with the other many lakes, the area offers a wide range of options to immerse in. A very special water world which not should be missed is of course the Trick fountains within Hellbrunn Gardens just south of Salzburg. Open from April to November www.helbrunn.at
Xmas Markets in Salzburg and the Lakes Area. For many guests the time before Christmas is the most beautiful time to explore Salzburg and the region. Every Market has its own charm and even at our Resort we have a nice market set up on the weekends before Christmas. Why not getting a special gift for this Christmas – easily purchased at our grounds during your stay – just get in touch with us for details on dates and times. Details on the most famous markets can be checked out under: www.christkindlmarkt.co.at and www.wolfgangseer-advent.at.
Yoga is a form of meditation training and translates as "yoke" or "union", describing the integration of mind, body and spirit to create a greater connection with one's own pure, essential nature. An intelligently designed system of physical positions, movement sequences and breathing techniques, yoga helps to regenerate, strengthen, stretch and harmonize the body. Book this Experience or any other treatment with our Spa Department directly under spa@schlossfuschl.com. Our guests will find harmony and well-being of the highest standard in the pool or steam room, while healthy fitness awaits them in the work-out area. All this is enhanced by our excellently trained beauty and massage experts who pamper guests with beneficial treatments. LIGNE ST BARTH and Kéraskin Esthetics are the two select cosmetic brands at our SPA hotel. Read our SPA program.
Zwoelferhorn Gondola – The area around the Zwoelferhorn and the Pillstein is a hiking paradise for everyone and all seasons. You will reach the summit within only 16 minutes driving time by the Zwoelferhorn gondola. The hiking area with the panorama route is easy accessible and will turn this excursion into a wonderful experience. The Zwoelferhorn gondola is starting from St. Gilgen/Lake Wolfgang and is just a short drive away from our Hotel. www.12erhorn.at